Special Camps 2022
By Joshua "J-MONEY" Money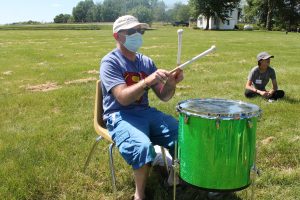 I arrived at Camp Sunday afternoon and started with a craft. I went to my dorm (Wyoming) and unpacked. (Little did I know I would be moved from Wyoming to Nevada the next day Monday). My first activity on Tuesday was field games where we played Sharks and Minnows. I sat out because there was a lot of running and I can't run anymore. My second activity was a Trail Ride. Miss Colleen came to get me and said "The Barn Staff is ready for you".
While the rest of my group went to Woodworking I went on a Trail Ride and then I went to Woodworking later. My horse's name was Molly. She (Molly) reminds me so much of Shooter. Molly is personally owned by Marlie, who is one of the Barn Staff at White Pines Ranch. On Wednesday, my group had Yoga first, then rode horses. We were supposed to have archery but it was raining. During my Trail Ride I got soaked because it was raining. After I was done, I came back to the dorm to change into something dry. On Thursday, I had my last Trail Ride  on Cade. I also rode Cade on Wednesday during my rain soaked trail ride.
The King Cobras Drumline was a new fun at special camps. It is for Special Needs students where they perform on drums with recorded music. The King Cobras staff brings all of the equipment. The King Cobras Drumline is part of the Cavaliers Drum and Bugle Corps. King Cobras started in 2022 but the Cavaliers have been around since 1948. (The Cavaliers have been around for 74 years).
Students participate at a high level of excitement throughout the classes. The drumming activities encourage development and engagement in many motor skills including hand eye coordination, bilateral coordination, motor planning, grasping skills and attention to task skills.
The activity promotes improved skills in all of these areas while having FUN!
I had alot of fun with this activity. I was headed to another activity when I heard music.
I asked a staff member (Mr. Nick) what was happening and he said "The King Cobras Drumline is here."